Isofoam Products
ISOFOAM's products have been used for many prestigious projects in Kuwait, U.A.E., Qatar , Bahrain and Oman. Our products are approved by Kuwait M P W, M E W, P A H W, Dubai Municipality and bears DCL Mark. One of our products are registered with UL Organisation dedicated to public safety for its Tests for Surface Burning Characteristics of Building Materials as per Standard UL 723.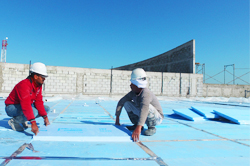 "ISOBOARD" Extruded Polystyrene Thermal Insulation Foam Boards
Produced in a wide range of densities and thicknesses for different types of applications. Manufactured using a continuous fully automated extrusion process.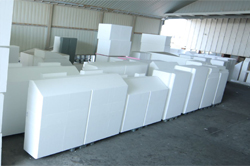 "S T Y R O P O R" Expanded Polystyrene
Styrene base plastic material having a rigid white foam like texture comprising not less than 4 to 6 million closed cells per liter.